Bathroom Renovations and Additions
Premier Bathroom Remodeling
JM Froehler is an experienced remodeling company. We can plan, design and implement your new remodel for you.
Starting your day out is hard enough without having to struggle getting ready in a small, dated bathroom. Let JM Froehler transform your bathroom into the one of your dreams.
With over 40 years of experience with bathroom remodel in Virginia Beach, new construction and reconfiguration, your life and your home's value will improve notably with an elegant and functional bath.
Whether the need is space enhancement, space generation, or total refit, JM Froehler can handle it. Using premier suppliers in both style and value is paramount to the development of the final product.
JM Froehler has the knowledge, know-how and relationships to make your project turn out just as you deserve. Listening to the Client's needs and desires is the first step in the process. JM Froheler has the experience to complement the clients' desires and when needed has built a lasting relationship with highly knowledgeable interior designers and decorators to make sure that the latest materials and fashionable appointments will be present in your new bathroom. Give JM Froehler a call today to start on your Custom Revamped Bathroom.
What kind of remodel can we design and build for you?
Flooring
Showers
Tubs
Painting
Cabinets
Fixtures
Lighting
Plumbing
Electrical
HVAC work
Windows
Bathroom Remodeling, Design Experience
When it comes to home improvement projects, one of the first rooms homeowners look to remodel along with the kitchen is the bathroom. The advantages of updates have a wide range of whether you are planning on staying in your home for the long-haul or looking to sell in the near future. If it's storage, efficiency, appearance or increasing home value, redesign your master or common bathrooms provide an endless array of benefits for you, your family and your guests. Our vast experience in serving the remodeling needs of homeowners makes us uniquely qualified to offer decoration and effective modifications such as wall and ceiling renovations, cabinets, sinks, countertops, faucets, lights, glass, jets, etc.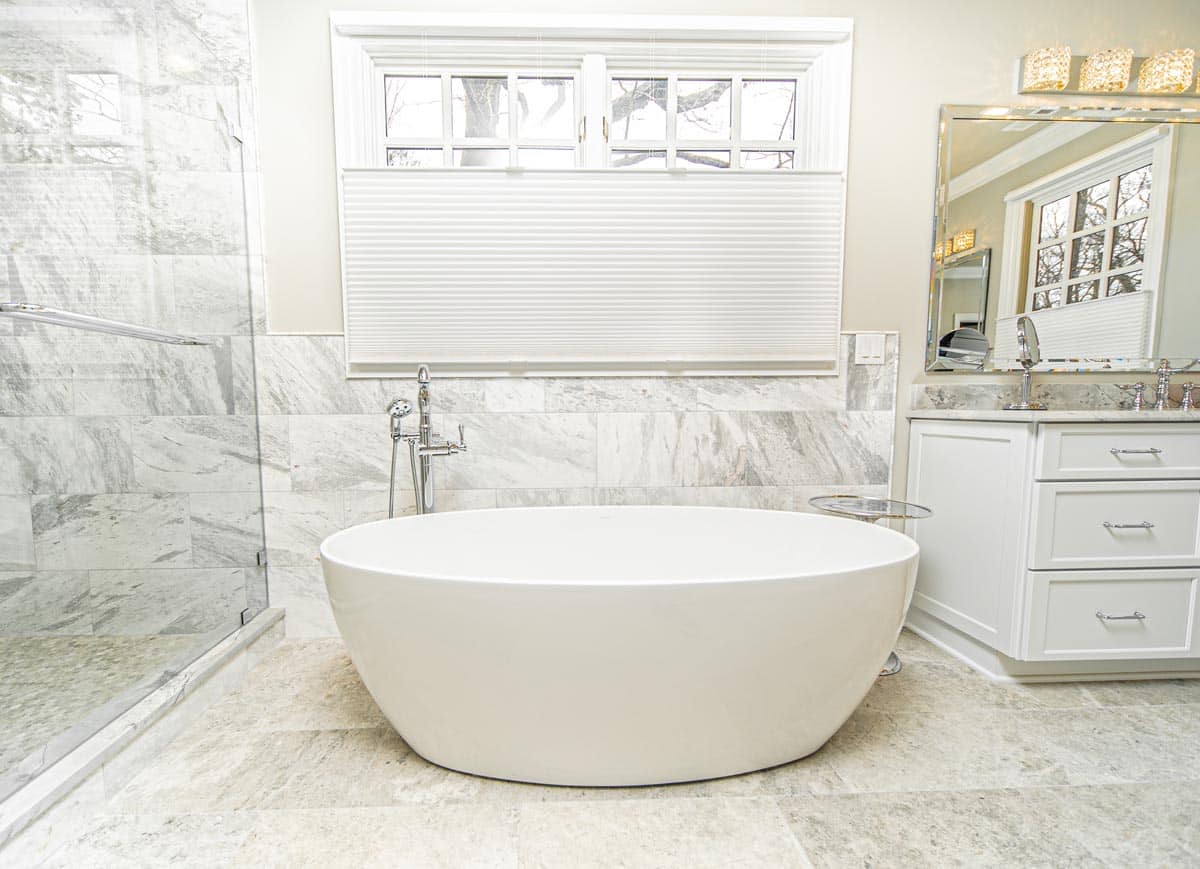 Creating a luxurious escape for rewinding, recharging and general relaxation is important for your emotional health. By crafting an oasis, you will replace your morning and evening self-care routine with a trip to personal paradise.
In 2011, bathrooms became more important than kitchens to home buyers. Out of every 3 home buyers, at least 2 either require or highly prefer a home with a minimum of 2 or 2 ½ baths with another 1 in 5 preferring 3 or more baths. Not surprisingly, adding an additional full bath can increase your home's value 20% on average, with a half-bath adding potentially over 10% to your home's value.
If you have an oversized garage, unused back patio or another non-living space that is already on a foundation, you are likely able to increase your return on the project, due to a lower project cost that yields the same home value increase. If you do not have the space to expand, revamping your current bathrooms is a great option as well to increase your own enjoyment of your home, while increasing the value up to 10%. This will also help your home sell faster.
Some of the most desired features in master baths include double sink or his-and-hers separate vanities, custom oversized showers with a sitting area inside, large soaking tubs, great lighting, linen closets with extra storage, private toilet compartments, a tile or mosaic wall behind the tub, and of course, decorative areas like niches, shelves and nooks. If you are considering a tile or wood floor in your bathroom, as found in most high-end homes, we can help you decide between laminate, wood, ceramic, porcelain, travertine, marble and other products that will best fit your home and preferences.
Thinking about remodeling your bathroom?
Are you ready for the bath of your dreams? A bath makeover brought to you by the remodeling contractors at JM Froehler can provide you with everything you're looking for plus some. With limitless master bath, powder room and styles to choose from, our professional team can guide you through exactly what you need to know to create your new functional and beautiful bathroom.
Our in-house remodeling team has developed a systematic process for assessing your needs and capturing the essence of your vision. We listen closely, incorporating a harmonious balance of design aesthetic and functionality into your new bath.
We are able to streamline the entire process, overlapping design and construction schedules to get your renovation job done in as little as one week's time.
With such a large array of bathtubs, showers, fixtures, tile, flooring, sinks, counter tops, vanities and other products to select from, a bathroom remodel Virginia Beach, can seem like an overwhelming task. Our team will walk you through the process one step at a time, providing guidance, education and personalized recommendations that complement the vision you have.
Your Dream Bathroom, Delivered, Unique
The bathroom isn't just a place to brush your teeth and do your business; rather, it serves a variety of different purposes depending upon each family or individual. For some, it may be a place of serenity and quiet; for others, it's the place that they indulge with their spouse. For others,  it's a gathering place that welcomes even the youngest members of the family for a nightly bath time ritual. We can help you create the perfect type of bathroom to best suit you and your family's needs.
Renovations | Additions | Custom Home Building | Commercial Construction | Residential Construction
Let JM Froehler transform your bathroom into the one of your dreams. With over 40 years of experience with bathroom remodeling in Virginia Beach, new construction and reconfiguration, your life and your home's value will improve notably with an elegant and functional bath.
For more information about remodeling 23451, JM Froehler fill out the form below for a free consultation or call our office at (757) 481-5801.